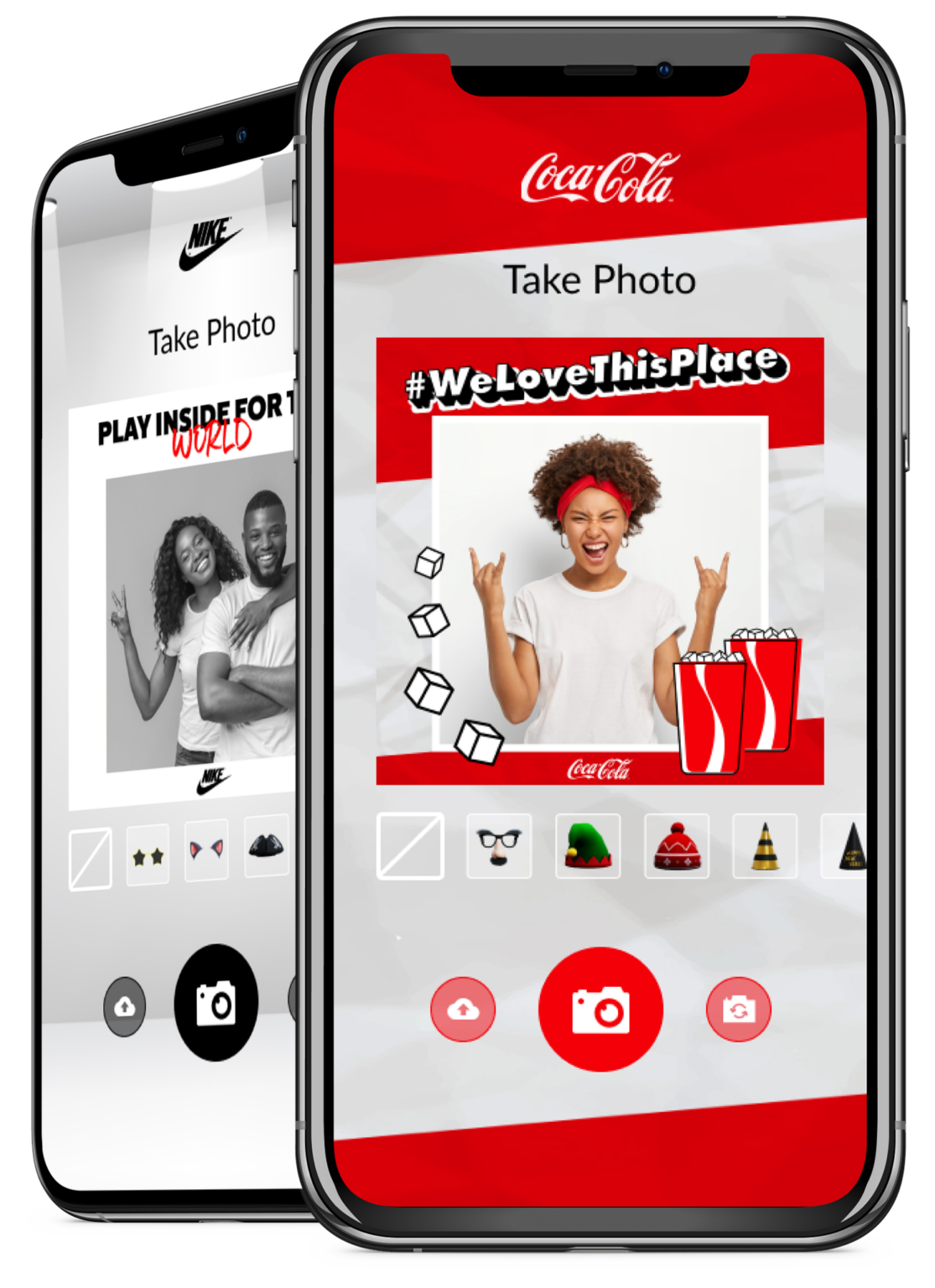 Make your virtual events memorable and fun
It works just like a photo booth – only it's on your guest's phone, tablet, or laptop. Your virtual event guests pose for their pictures using their own devices. They can have a blast adding fun props (similar to Snapchat) and sharing their pictures. It elevates your virtual event providing everyone with great memories specifically tied to your event.
How our photo booths work
STEP 1
Your event participants visit your unique event URL using their own devices. No app required
STEP 2
Guests follow the on-screen instructions to take photos with custom branded event graphics and frames.
STEP 3
Guests then share their images via email or social media.
STEP 4
Event images can be viewed on the event live stream slideshow and gallery
Try our virtual photo booth
Our virtual photo booth can be custom branded to suit events of all types. Graduations, Weddings, Parties, Corporate Events. We make your online events interactive and memorable.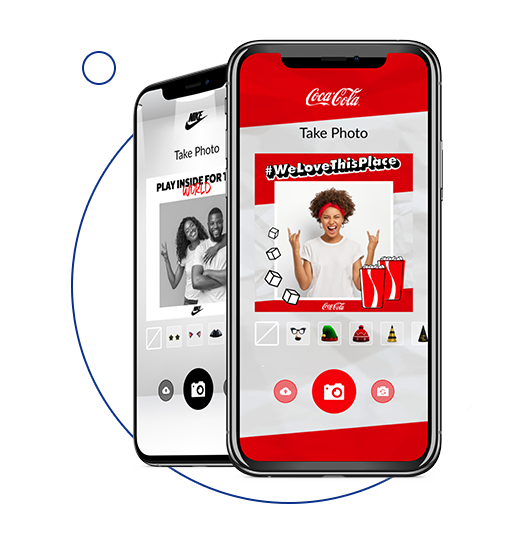 Virtual Photo Booth Features
Unlimited photos during the event
GIF and Boomerang options
Intelligent background removal
Assortment of digital props
Custom branded overlay
Themed microsite gallery
Email sharing
Social media sharing
SMS or text sharing
Digital copies of the event photos
Client analytics
Your guests can have a blast with different types of photos
The virtual photo booth not only takes normal pictures like a regular photo booth, but it also allows your virtual guests to have some fun creating GIF or Boomerang photos (a GIF is 3 to 4 photos that are played in a loop. A Boomerang is around 20 photos taken in 3 – 4 seconds that is played forward and backward a number of times to create a fun backward and forward kind of video loop).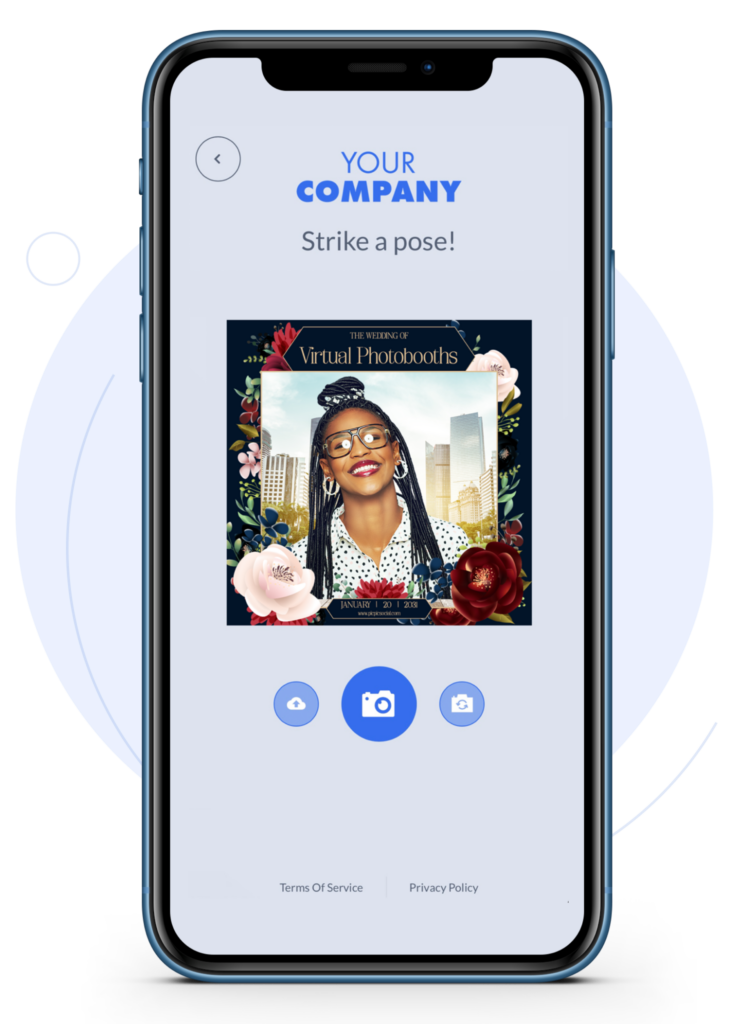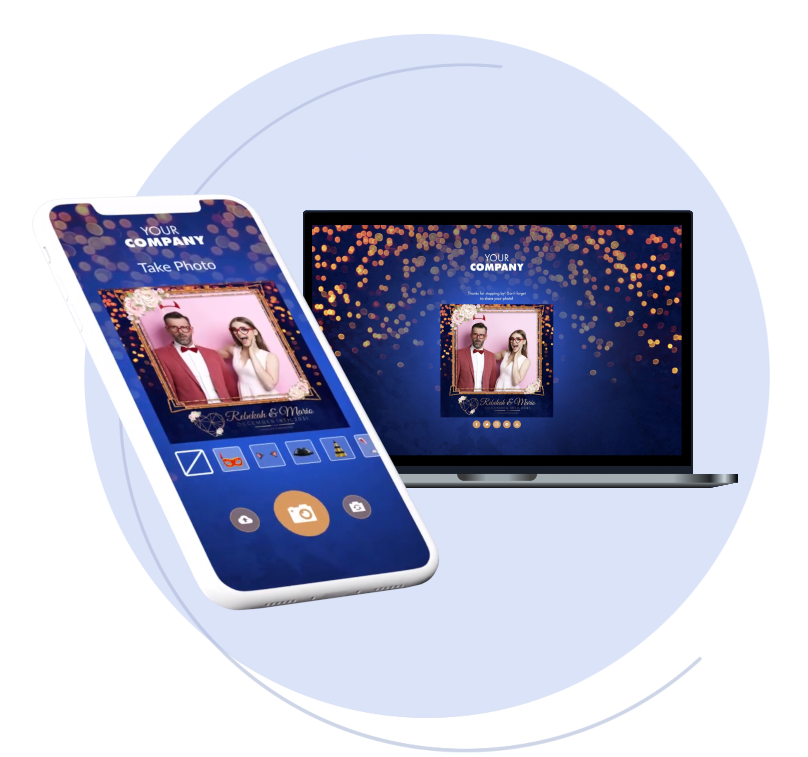 Completely theme and customize your event's virtual photo booth
Just like with a real photo booth our virtual photo booth brands your event with your logo, the name of your event, or any other graphics or text you'd like to use. You can either choose a layout for your event photos or we can custom design one for you (at no additional cost).
Confirm your guest list or capture marketing leads
If you would like, we can have our virtual booth automatically capture the names, email addresses, and mobile phone numbers of everyone who uses the virtual photo booth at your event. You can use this data to confirm who attended your event or to build new relationships if you're using the booth for a marketing event.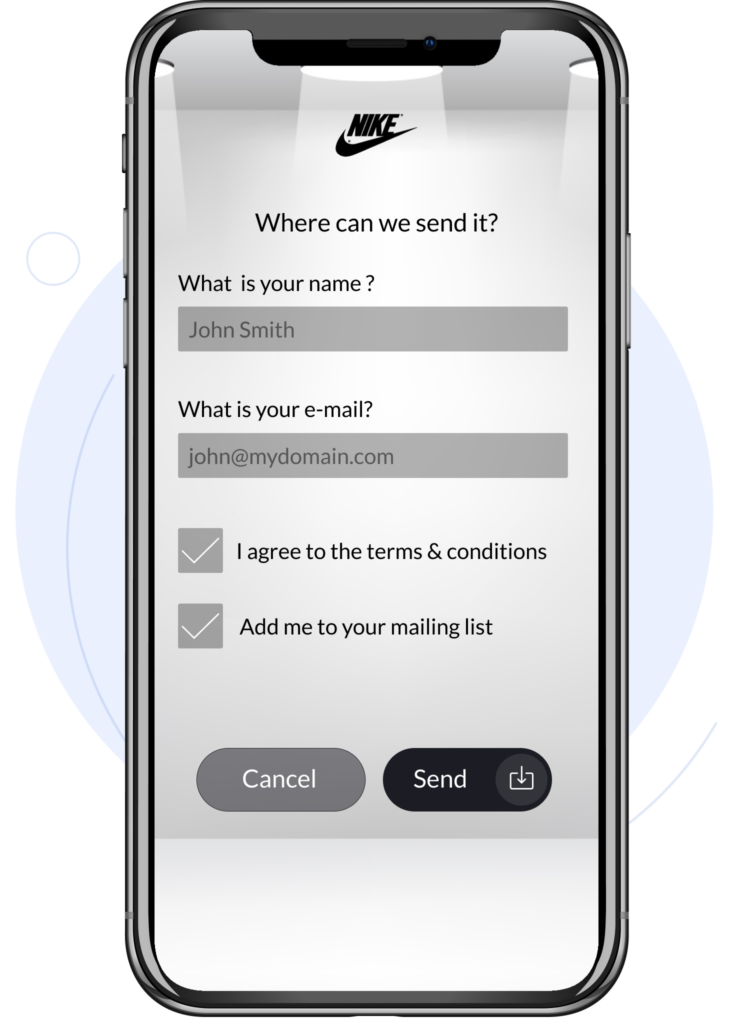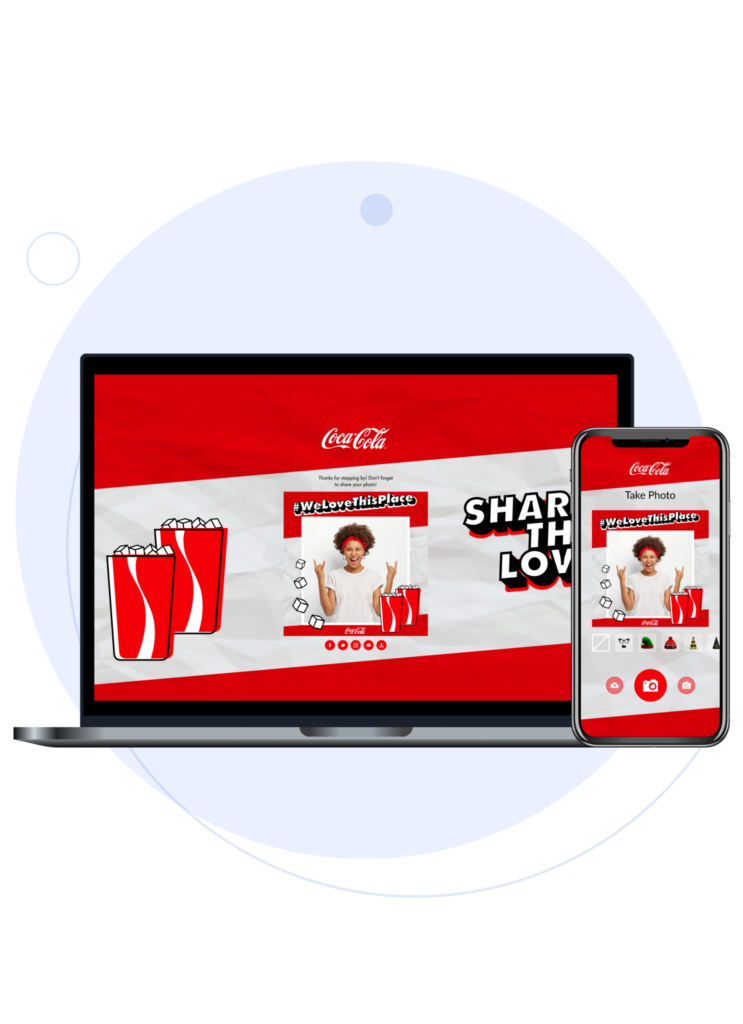 There is no need to download a special app to use our virtual photo booth. It works within the internet browser of any device (internet browsers such as Chrome, Firefox, and Edge). So, yes, it will work on your phone (iPhones and Androids), tablet, laptop, and desktop computer. Whatever device your guest has to browse the internet is going to work.
Give us a call!
Have a Question? Contact us today and we can answer any queries you have, simply fill in the contact form or give us a call on 778-899-5685. Our fully trained customer assistance team are on hand to help you!
Why use a virtual photo booth?
With the global restrictions of social events and the increase in virtual events, virtual photo booths have risen to the occasion by offering an easy way for photo booths to be hosted on-line from the comfort and safety of your own home, office or wherever you choose. No more photo booth lines to wait in. Even when the world returns back to its new normal, virtual booths will be there to augment traditional photo booths. A virtual photo booth is a great option to overcome the social distancing restrictions, encourage engagement and make memories. Just imagine how awesome your event would be if anyone could experience your photo booth from anywhere in the world.
What is a virtual photo booth and how does it work?
A virtual photo booth is a software platform that turns your personal phone, computer or any smart device into a fun, digital photo booth. The technology has all the excitement and features of a traditional photo booth, with the advantage of being accessible from anywhere in the world. It's like having a photo booth in the palm of your hand.
This is how the virtual booth process works. Our team gathers the pertinent design elements from the host and puts together a digital picture frame and a cloud based micro-site, incorporating the customer's graphics or logo for the occasion. The client is provided with a unique URL link and QR code that they forward to each participant of the event. The link can be activated with any computer or smart phone that has internet access, and the QR code can be scanned with any device that has a built in camera. Whichever option is selected, it will initiate the virtual booth platform. No software, apps or hardware is required to be installed to access the virtual booth platform. It's fully browser based and works on Windows Mac, iOS and more. Once the guest accesses the virtual booth software, they accept the custom terms, then select if they want to take a standard, GIF, Boomerang, or a Burst picture. The user has the option to select from an assortment of virtual digital props and change the background of their picture, also known as green screen but without the need of a backdrop. If that isn't clever, we don't know what is. After the selfie picture is taken, the guest either accepts or retakes the photo, and then they decide how they want to transfer their unique keepsake. The digital photo can be sent to their social media page, email, or simply downloaded to their device. The software is not only intuitive, but fun to use.
In addition to the numerous sharing options, all the virtual photos taken during the event are uploaded in real time and saved in a cloud based micro-site. The pictures on the micro-site are organized in a gallery slideshow for the guest to enjoy during and after the event. The host of the event will receive digital copies of all the gallery photos as a memento of the great time everyone had.
A virtual photo booth is a great corporate marketing solution to promote your brand and create client engagement. It's useful for capturing emails from anywhere in the world for future communication and advertising. In addition to marketing, you can incorporate a virtual photo booth at your next company function or social event. After your colleagues or friends experience a virtual photo booth, they'll be requesting it for every function.
Take your virtual event to the next level. Add our virtual photo booth
So if you don't want to miss out on the next craze, let the team at Forever Captured Photo Booth elevate your next event with a virtual photo booth. Our virtual booths are second to none and will captivate your guest while making great memories. Don't wait, contact us now by clicking on the button below to secure a virtual booth or to ask us a question.