Our Open Air Photo Booth Rental
Rentals We Offer in the Lower Mainland
Whether you're looking to rent a photo booth that is fun or sophisticated, we've got you covered. Our Open Air Photo Booth takes parties, weddings, and company events to the next level by injecting tons of fun while fitting seamlessly into any event. Our photo booth is highly customizable. It can be wrapped with custom text and graphics so it can blend in with your theme to enhance the look of your event, or it can be setup to stand out and draw a crowd. Whatever you're looking for, we can work with you to create a memorable experience your guests won't soon forget.
Open Air Photo Booth Rental
Our photo booth is an official Open Air Photobooth® (a premium photo booth manufacturer). As an open concept booth, it allows couples or groups of people to pose in front of the photo booth. Behind the guests being photographed is a backdrop (which you get to choose). Your guests tell the photo booth when they're ready to have their picture taken by simply touching a button on an interactive touch screen. The screen then counts down to zero and takes your guest's picture. The screen then counts down like this three more times taking three more pictures. It finally prints out either two identical photo strips or one 4 x 6 inch photo (it's your choice). Either option displays all four of your guest's photos on their smudge proof, photo lab quality print. The booth prints off all photos within 8 seconds ensuring that no one is standing around waiting for their picture to print. The booth can also be used as a video photo booth too.
There are many advantages to an open concept photo booth:
Other guests can see the pictures being taken and can be drawn into the fun
You can cram as many people as you want into each picture (well, you might run out of room at around 20)
For more formal events, an open booth can create a very modern, sophisticated atmosphere where everyone goes home with a beautiful keep-sake photo
For informal parties and wedding receptions, an open booth can be placed so that pictures are easy to photo bomb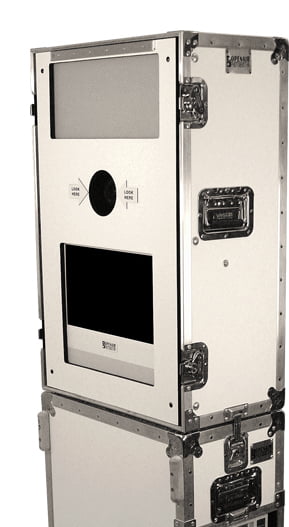 We Always Customize Our PhotoBooth for Every Event
We strive to make every event we're a part of exceptional and memorable. One way we do this is by customizing our photobooth and the photo strips it prints for every event. We believe each event we're invited to is special. We love to support and enhance the uniqueness of each event by coming up with an amazing print layout and then incorporating that into our photo booth screen. That way the theme of your event is both carried and enhanced through your guest's experience with the photo booth. Below is an example this from a Hawaiian themed birthday party. You'll notice that the two screenshots from the photo booth screen coordinate perfectly with the printed photo strip. You can click here to see more examples.
We Always Double the Fun
Every one of our photo booth rentals includes our Social Sharing Kiosk. This touch screen doubles your guests' fun by allowing them to share their photo booth pictures with friends on Facebook, Instagram, or by email.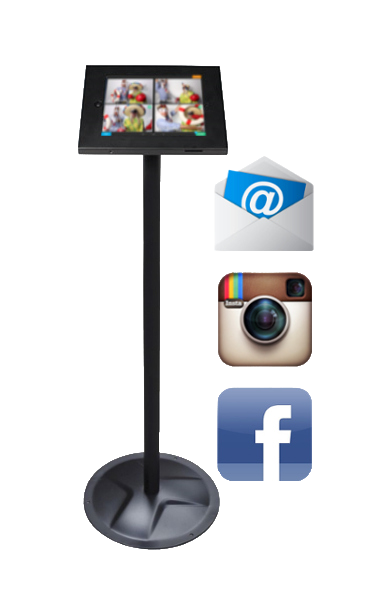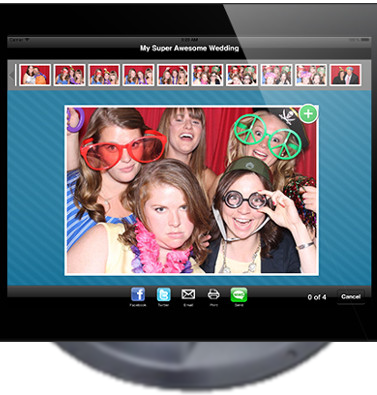 Closer view of the photo sharing touch screen.
"The photo booth is the greatest gift known to weddings since open bar" – V, New York Bridal Blogger
"Photo booths offer soon-to-be-wed couples a 3-in-1 solution for photography, entertainment, and party favors." – Jessica Padykula, She Knows Weddings
"The photo booth is just as much fun for children and seniors as it is for young adults." – Danielle Nelson, Photo Booth Expert
Put Our Open Air Photo Booth to Work for You
Give us a call today to see how we can help you make your wedding, party, or special event extra memorable.​
More About Our Photo Booth
The Open Air Photobooth® featured on the Today Show and at the Golden Globe Awards in Hollywood.