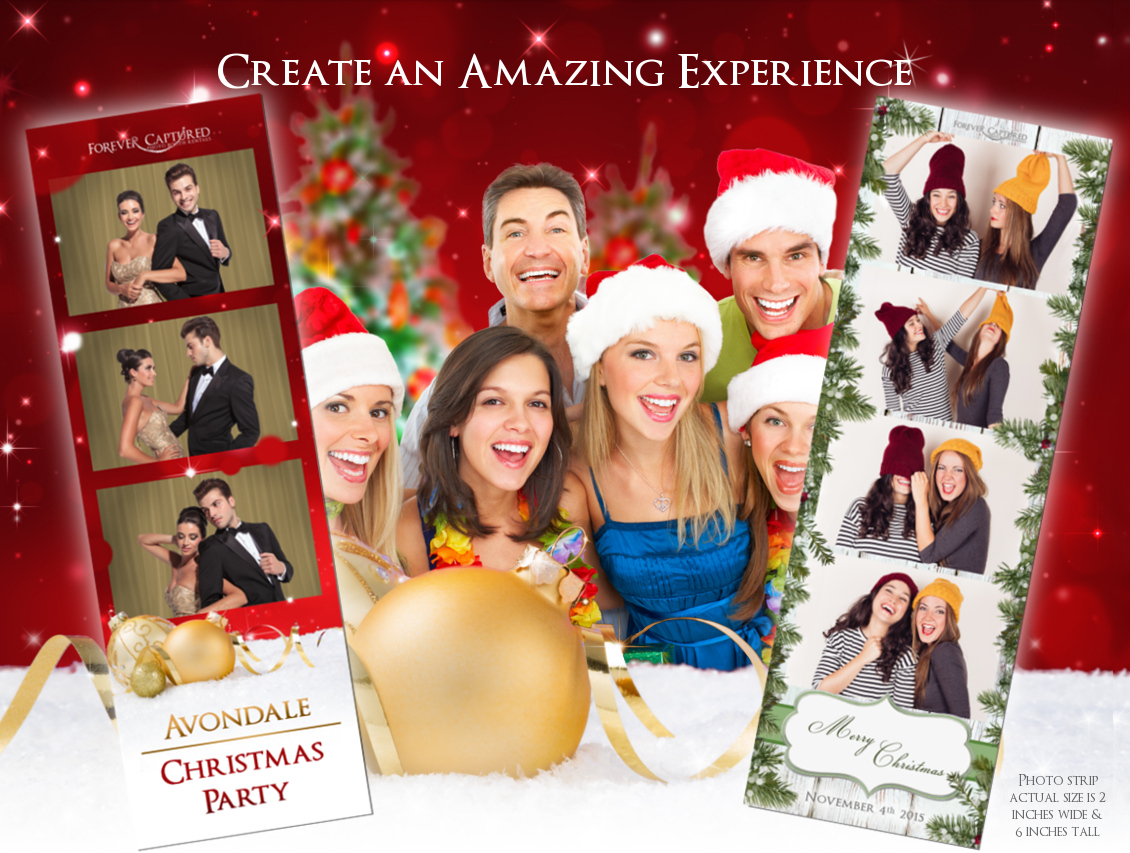 A wedding, party, or Christmas or holiday party photo booth rental in Delta is always such a blast. You can literally bring the fun and excitement of it all to your Christmas party and forever capture the laughs, the memories, priceless moments, and hysterical antics of your guests. Your Christmas party or event may only last an evening, but we create great experiences and capture delightful memories for both you and your guests that will last for many years to come.
In addition to all the fun, excitement, and unbeatable memories a photo booth generates, there are so many more reasons to rent a photo booth for your Christmas party in Delta:
They help people mix, mingle, and meet others. Turtles come out of their shells, and shy people who usually avoid the lime light have a great time getting a little goofy in the booth.
People love to take home souvenirs of themselves. Photo booth pictures are the ultimate Christmas party favor. People put these pictures on their fridge or office cubical wall, and they literally stay there for years – a constant connection to their memories of an amazing day.
People of all ages have a lot of fun.
The booth provides your guests with something really fun and memorable to do together, and with our extensive selection of props, your guests will find no end to inspiration for having a great time.
Regardless of whether you rent a photo booth in Vancouver for a Christmas party or rent one in Delta, in many ways, a photo booth actually does what only the most talented photographers can do – only it's cheaper. Click here to learn more.
Our All-Inclusive Christmas Party PhotoBooth Rental
When you rent a Christmas party photo booth from Forever Captured in Delta, you quickly discover that we pack a whole lot into our all-inclusive package. To start with, you get unlimited photos, and you can choose if you'd like these to print as either two 2×6 inch photo strips or as one 4×6 inch print. You can also select a backdrop – even a green screen – and we always provide a ton of really fun and interesting props to bring out your guests' fun side.
One of the things we're well known for is our beautiful photo strip designs. The way we see it, every part of a Christmas party needs to be themed – including the photo booth. That's one reason why we often custom design photo strips and postcard style (4×6 inch) prints for Christmas parties for no extra charge. We create these in consultation with the party organizer to incorporate the overall look and feel of the Christmas party's colours and theme elements. We even ensure our photo booth's touch screen that your guests will interact with is themed to match the photo strips. The end product is a beautiful, completely customized photo strip or postcard style print that captures the magic of your special day and enables your guests to carry it home with them as the ultimate Christmas party favor.
The experience we create doesn't end there. We then upload all your pictures to either a private or public online gallery where your guests can browse through all the photo strips, download them or share them. We even provide you with a USB stick with all your guests' pictures so you'll have them for good.
We also further enhance each guests' experience by providing an attendant who is friendly, fun, and professional. The attendant will ensure everyone has a great time by overseeing the operation of the photo booth and ensuring that everything runs smoothly.
We further increase the fun by including – at no additional cost – a compact social sharing kiosk where your guests can email their pictures to friends or share them on Facebook, Twitter, Pinterest, and other social sites.
Our photo booth is a high tech, open concept booth. It prints lab quality photo strip prints and postcard style prints in less than 10 seconds that are smudge proof and should literally last a hundred years. We rent out our booth for Christmas parties in Delta and any other location in the Lower Mainland or Fraser Valley. We take care of delivering it, setting it up, running it, and packing it away. You do nothing but smile for your picture and have a great time.
You can literally start having some fun right now by choosing a photo strip or postcard style layout and then choosing your Christmas party design. You can also use these designs to gather ideas and then we can custom make a photo strip for you too.
Christmas Party Photo Booth Rental Prices
We rent our photo booth by the hour and always include all the great features listed above. The price for our rental starts at $549 for 2 hours. Please contact us to see if we are available for your event or for rentals that are longer than 2 hours.
Call us today to book a super amazing photo booth experience for your event.
Extra Options & Prices for Our Open Air Booth
Although we jam-pack our rental package with everything you need for a tremendous experience, there are a few extras that some people like to throw in to further enhance their Christmas party:
A memory scrapbook of photos from your event. Our attendant directs each guest to place a copy of one of their photo strips in the book and are invited to write a special message next to their picture (this is ideal for weddings): $100.
Double Prints: $45 per hour.
Non-Operational Hours (in case you want to stop the pictures for dinner or speeches): $50 per hour.
Wrap the booth with any graphics or logo: $295
There are many other extras we can do too. Feel free to ask us about any idea you may have.
Make Your Christmas or Holiday Party in Delta One to Remember
So if you're contemplating bringing in something fun and exciting that will help bring your guests together and really given them something to do and talk about, a photobooth rental for your Christmas or holiday party or event in Delta is the way to go. Forever Captured Photo Booth Rentals is here to help you create a fantastic experience for your guests that they will thoroughly enjoy and remember for many years to come. Contact us today, and we can start talking about what you have in mind for your party or event. Contact us at info@forevercaptured.ca or at 778-899-5685.