A graduation party or prom photo booth rental in White Rock, BC is always such a blast. You can literally bring the fun and excitement of it all to your prom or graduation party and forever capture the laughs, the memories, priceless moments, and hysterical antics of your guests. Your prom or graduation party may only last a day, but we create great experiences and capture delightful memories for both you and your guests that will last for many years to come.
So Many Good Reasons to Rent or Hire a Photo Booth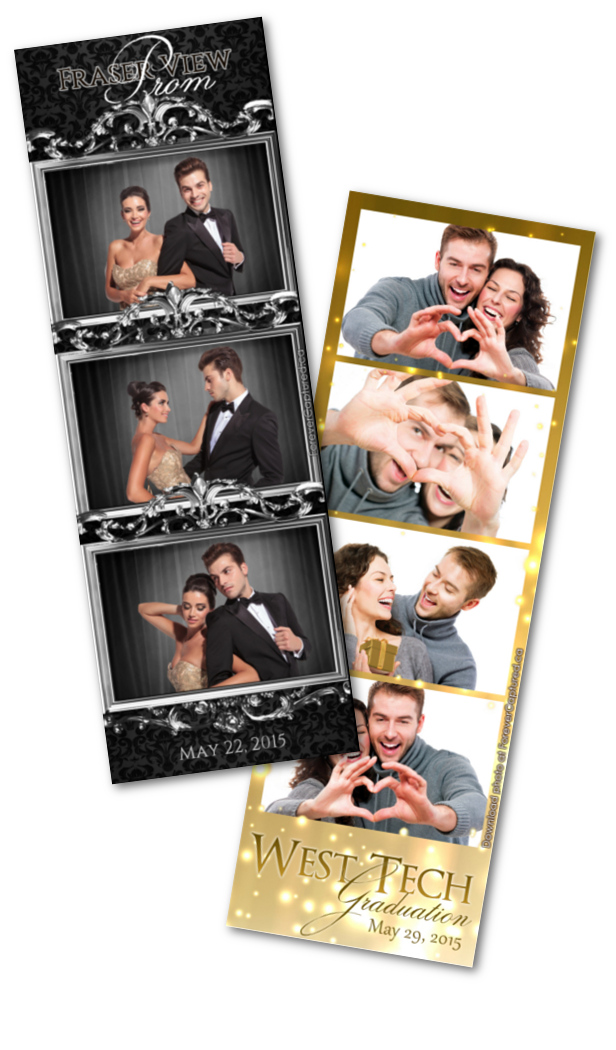 To add to all the excitement, fun and unbeatable memories that a photo booth creates, there are so many more compelling reasons to enhance your prom or graduation party by choosing to rent or hire a photo booth in White Rock:
They really help a lot of people to mix, mingle, and meet others. It's amazing how turtles come out of their shells and people who tend to be on the shy side, avoiding attention, have a great time acting a little goofy in the booth.
People love to take home souvenirs of themselves. Photo booth pictures are the most amazing prom or graduation party favor you can buy. We find that people put them on their fridge or in their office, and they often remain there for years – a lasting connection to the fond memories of a delightful day.
It includes everyone not included in the occasion's formal pictures.
It's great fun for all ages. People love it so much they're now more popular than Vancouver DJ rentals.
The booth allows your guests to do something fun together that they're really going to remember, and with our great selection of props, your guests will find more than a little inspiration to get creative and have a great time.
Whether you're looking for a photo booth rental in Vancouver, San Diego, Los Angeles, Seattle, Portland, Surrey, or White Rock, many people don't realize that in a number of ways a booth can do what only the most gifted wedding and events photographers can do – but for a more affordable price.
Forever Captured's All-Inclusive Prom Or Graduation Party PhotoBooth Rental Package
We pack a whole lot into every rental as part of our standard package. When you rent or hire one of Forever Captured's photobooths in White Rock for your prom or graduation party, you get unlimited photos with each individual photo session printing as either two 2×6 inch photo strips or one 4×6 inch print. You can choose a backdrop – even a green screen if you'd like – and we always bring along a ton of fun and interesting props for your guests to choose from and monkey around with in the photo booth.
Vintage Photo Booth Photo Strips – with a Fun Twist
One of the things we're well known for is our beautiful photo strip designs. We make them in the vintage photo booth style – except with a modern twist: we theme them. The way we see it, every part of a prom or graduation party needs to be themed – including the photo booth you hire. That's one reason why we often custom design photo strips and postcard style (4×6 inch) prints for proms & graduation parties for no extra charge. We create these in consultation with the party organizer to incorporate the overall look and feel of the prom or graduation party's colours and theme elements. We even ensure our booth's touch screen that your guests will interact with is themed to match the photo strips. The end product is a beautiful, completely customized photo strip or postcard style print that captures the magic of your special day and enables your guests to carry it home with them as the ultimate prom or graduation party favor.
After-Event Online Gallery for Guests to Download Booth Pictures
The experience we create doesn't stop there. We then display all your pictures in either a private or public online photo booth gallery (it's your choice) where you and your guests can browse your guests' photo strips, share them with friends, and even download them. But you don't need to download them, because we provide you with a USB stick containing all your guests' pictures so you can hold onto them for good and laugh and relive the memories whenever you choose.
How We Further Enhance the Experience
We also always enhance your guests' prom or graduation party experience by providing a friendly, professional attendant who will usher and assist your guests through their photo booth experience for the entire length of time the booth is open and ensure everyone has a great time.
A photo booth is all about having fun and a great experience. That's why we bring 3 times more props than most other rental companies. We don't put them all out at the same time, though. We introduce new props throughout your event to keep things fresh, interesting, and fun.
We then allow your guests to share their fun with others by including a compact social sharing kiosk that lets your guests share their photo strip with friends by email, text, Facebook, Twitter, Pinterest, and other social sharing platforms.
Unlike some photo booth machines you'll find some companies using, ours is not cheap. It's a hi-tech, premium quality, open concept booth with a very high resolution camera and touchscreen technology. It produces high quality photo strip prints within 10 seconds that are lab quality. They won't smudge, and they should last a hundred years.
We rent our portable booth for proms & graduation parties in White Rock, BC and almost any other location across the Lower Mainland and Fraser Valley. We take care of setting up the booth, operating it, and taking it down. So you don't have to worry about a thing. All you need to do is smile for your picture and have a wonderful time.
You can actually start your fun right now by clicking here to see the various photo booth layouts and prom or graduation party designs you can choose from when you rent from us. We're also happy to custom design something for you too.
Photo Booth Rental Cost for Proms & Graduation Parties
As far as the cost of our photo booth rental goes, we rent it by the hour and always include all the great features listed above. The price for our rental starts at $549 for 2 hours. Please contact us to see if we are available for your event or for rentals that are longer than 2 hours.
Call us today to book a super amazing experience for your event.
Extra Options & Prices – Memory Book, Picture Duplicates, Video Booth, Etc.
Although our photo booth company jam-packs our rental package with everything you need for a tremendous experience, there are a few extras that some people like to throw in to butter things up and further enhance their prom or graduation party:
A memory scrapbook of photos from your event. Our attendant directs each guest to place a copy of one of their photo strips in the book and are invited to write a special message next to their picture (this is ideal for weddings): $100.
Double Prints: $45 per hour.
Non-Operational Hours (in the event you wish to stop the booth photography for a while for dinner or speeches): $50 per hour.
Custom frame the photo booth or add some flash to it with special graphics or a logo: $295
There are a lot of other extras we work in to your package too – even turning pictures into Image Cubes with the photo booth printer. Feel free to tell us about any idea you are thinking about.
Make Your Prom Or Graduation Party in White Rock Amazing with Our Booth
So if you're searching for something that will bring your guests together and give them something to do and talk about that's fun and exciting, a photobooth rental for your prom or graduation party in White Rock, BC is the best fit. Forever Captured Photo Booth Rentals is here to help you put together an exceptional experience that your guests will really enjoy and remember for years to come. Contact us today, and we can begin discussing what you have in mind for your prom or graduation party. Contact us at info@forevercaptured.ca or at 778-899-5685.